A bead of courage for someone I don't know
I don't know anything about you except that you are a fighter.
I got these beads from my friend Lara, the mother of a special boy named Max.
I don't know anything about you except that you are a fighter. And that you are in a fight. A friend of mine, the mother of another fighter named Max, gave me the bead I'm sending to you. The organization called Beads of Courage provided the beads that I took with me today and that you'll get as a marker for a treatment you receive for a chronic, life-threatening illness.
These beads were pinned to my jersey for today's Tour de Cahaba. I'll keep one of each and send the other back to be given to a child going through treatment for a life-threatening condition.
The bead you're getting was pinned to my jersey on a 64-mile bike ride this morning, the Tour de Cahaba. It was a hard ride: hilly, hot, and humid and I struggled. But I was riding with a good group, making good time. As you know, it can be less of a struggle when you've got help. I wasn't with my teammates; in fact I didn't even know everyone in the group. But we worked together anyway.
Sometimes you need to become partners in the journey as you go. But when I saw a Six26 teammate stopped on the side of the road with a flat tire I knew I had to check on him even if it meant letting the group go on.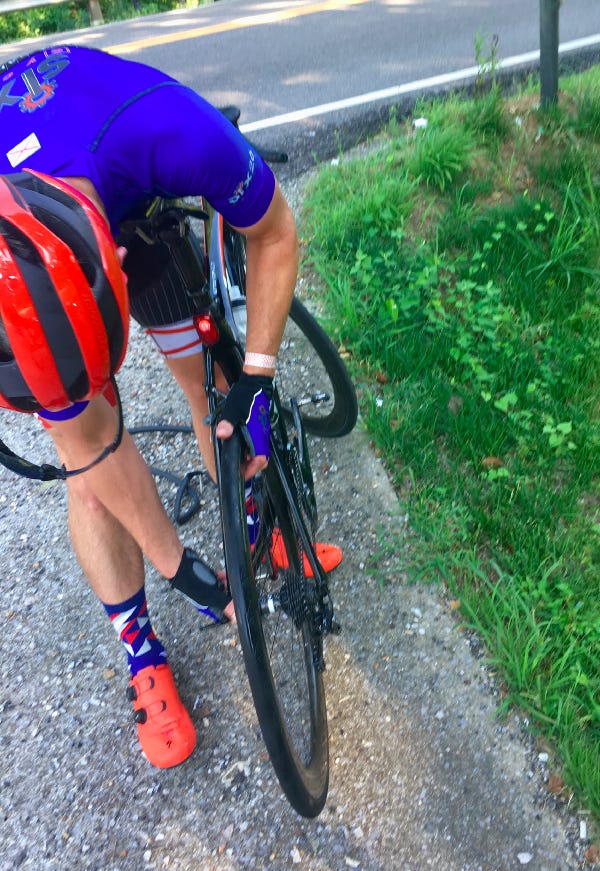 My teammate Joseph didn't need my help with his flat tire, but when you're a team, you stop to help anyway.
I thought of you as I turned around to see if he needed help. That's what teammates do. You, too, have teammates fighting for you, checking on you, pulling for you. Some you know; some you don't. Like I said, I don't know anything about you, but I do know this. You're not alone in your fight.