Making good on the goal Frankie Andreu set for me
And he didn't even know it…
About 35 of us lined up to race on Sunday morning in College Park, a neighborhood of historic homes near the Atlanta airport. It was the Masters race, so three fields combined into one: 35+, 45+, and my group, 55+. There aren't many 55+ crit racers — at least not on this Sunday. I counted four of us. The younger groups were mainly Cat 1s, 2s, and 3s, serious racers in their day — many of them serious racers on this day. And they typically set a serious pace, just a tick or two slower than the 20-something Cat 2s and 3s.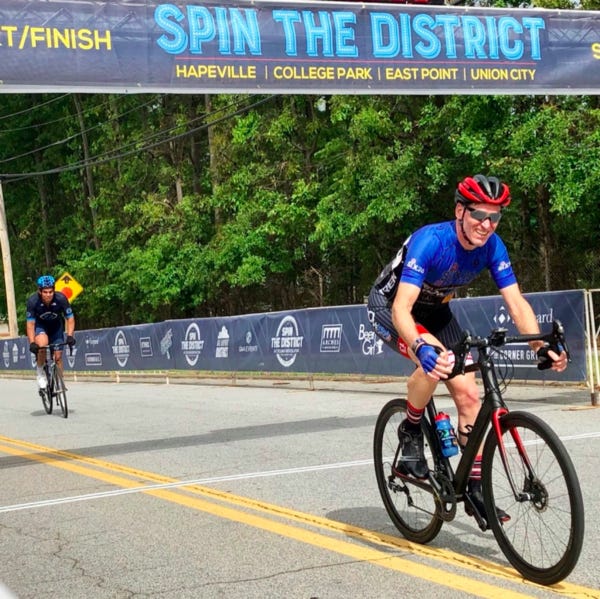 But at that pace, it didn't take long for those of us in the 55+ group to get sorted to the back of the pack — and then off the back and into a race of our own. That's when the race announcer, former Tour de France pro Frankie Andreu, set a goal for me without even knowing it.
Shortly after our race started, he stepped down to hand out medals to the junior racers from the race before ours. And by the time he got back to his microphone and his perch above the start/finish line, not only had I been dropped, but I was being lapped.
But I had just enough gas to hang on to the back of the pack for half a lap as they went past. And that's when I heard Frankie: "And there's Rick Swagler in Masters 55+. He's always with the lead group." Which was hilarious. It would have been completely accurate for him to say "he must have been lapped because he's never with the lead group."
But at that moment, as the younger guys (and one 55+ racer) moved on down the road, I decided that Frankie had set a goal for me: hang with the lead group for a full 40 minute race. As it was, I held a 35 second gap on the next 55+ racer, good enough for second place. But from here out that's not good enough. Not until I finish on the same lap as the younger guys. Not until what Frankie said is true.