The tantalizing tease of a red light
Birmingham's Tuesday Night Worlds ride is like an instant-read fitness thermometer: You know almost immediately whether you've got it that…
Birmingham's Tuesday Night Worlds ride is like an instant-read fitness thermometer: You know almost immediately whether you've got it that night or not. The ride pre-heats through the Birmingham suburbs and then gets turned up to broil as it leaves Irondale. The pace picks up on a gentle hill that eases and then becomes steeper. That's where the A group and B groups get defined pretty quickly, and I've rarely been able to hang with the A's much past that initial rise. Last night, as we wound our way through the neighborhoods toward Irondale, all together and at a casual pace, I could already tell I wasn't going to be able to hang. I'd begun sorting through my catalog of excuses: I was riding my older, heavier bike; I'd only had one rest day in the last two weeks; I'd adjusted my saddle position; it was really hot and humid…
So from the beginning I decided to start with the B group, which is still a good, solid ride but less of a race simulation — and fewer 20- and 30-somethings and attacks. So when the A's lit it, up I drifted back to the B's. The A's were still in sight as the road flattened out — and they caught a red light. Second chances during Tuesday Night Worlds are rare opportunities, and I couldn't resist this one. But as with most undeserved second chances, unrealistic optimism eclipsed the indisputable facts. Like fitness.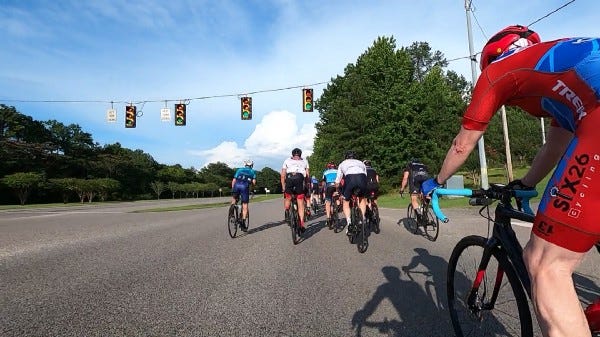 Catching the A's at a well-timed red light.
I caught the back of the group as they pulled away from the light. They accelerated to almost 30 fairly quickly, but my legs had no interest in staying with them. The light was just a tease, a taste of life at the front. As I drifted back to the B's again, my teammate Paul pulled up briefly next to me before quickly bridging the gap, seemingly easily latching on with the A's. It reminded me that age isn't in the catalog of excuses: Paul is 65.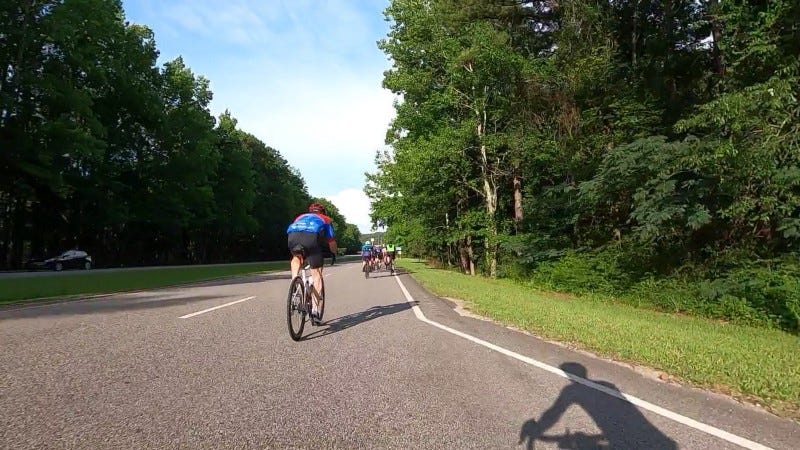 Paul bridging the gap to the A's.
Video:
Tuesday Night Worlds
Shared using GoProgopro.com